Piedmont, CA – As renovations and improvements continue on schedule for Piedmont's Corey Reich Tennis Center (CRTC), Piedmont Recreational Facilities Organization's (PRFO) has announced that their successful fundraising campaign will draw to a close on December 31st, 2019. Interested donors can still view available CRTC sponsorship packages and on-site recognition levels at www.prfo.org/corey/. Recognition of donations received by the end of this year will be featured with permanent donor signage.
To date, approximately $440,000 has been raised through the generosity of the local tennis community and supportive residents. A check for $165,000 was presented to the City of Piedmont to underwrite construction and new equipment costs. The remaining funds will be used for additional enhancements and long-term maintenance via a targeted fund held within the endowment of the Piedmont Beautification Foundation (PBF).
Donors with connections to Piedmont's tennis teams, recreational clubs, and coaching staff have been incredibly supportive of this initiative. Major CRTC donors Larry Hawkins and Karen Snow Hawkins have been loyal supporters of Piedmont tennis for years.
"The varsity tennis program has been a great experience for our son, Luke," said Karen. "We are big fans of Jim (Landes) and Corey, and are delighted to contribute to a new tennis facility in Corey's name."
Recent improvements in November included the installation of new bleachers and a new bottle-filling water fountain. The entryway and sidewalk were also regraded to achieve ADA accessibility, paving the way for final entryway design and production. Spectator benches will be placed beyond the outer fence in the coming weeks, and energy-efficient LED court lighting will be installed in Spring 2020. The entire project may be finalized as soon as the end of the 2020 school year.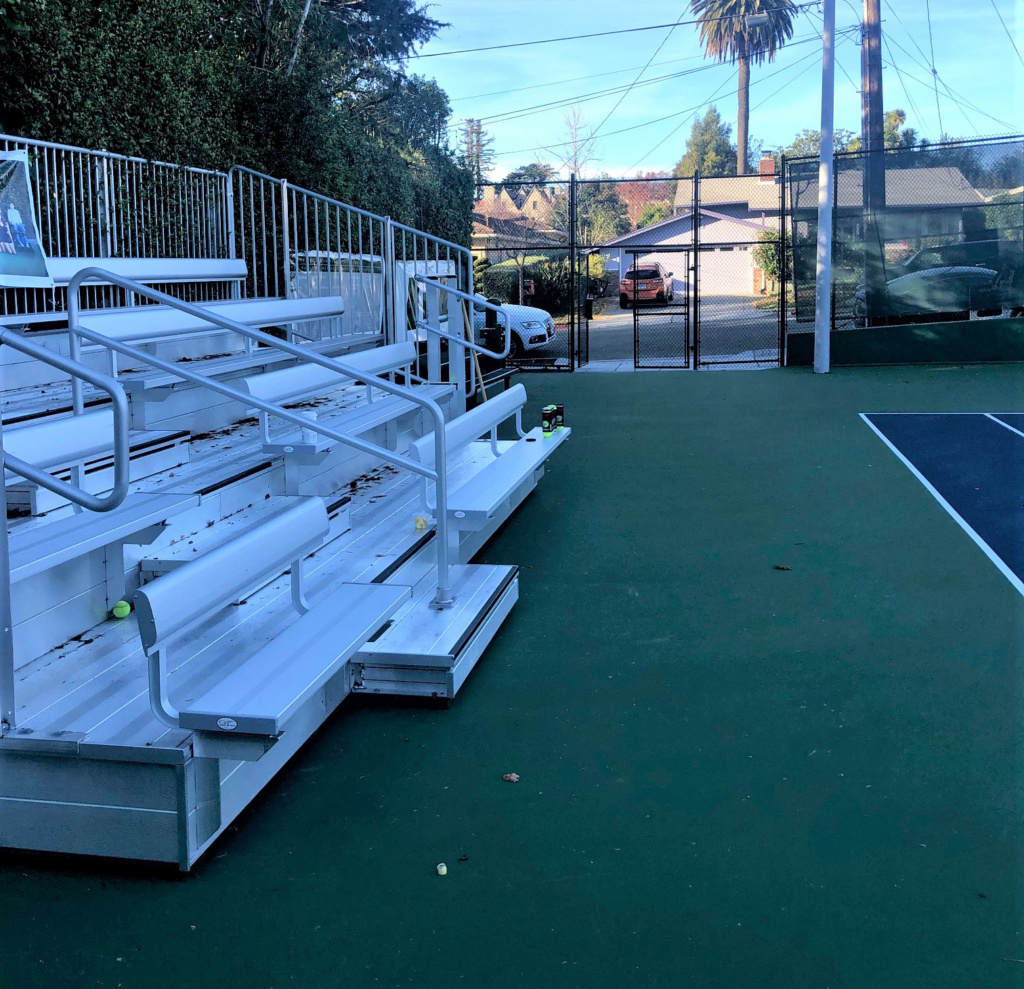 Corey Reich, a 2004 graduate of Piedmont High School, was a member of the Men's Varsity Tennis Team. Diagnosed with ALS in2007, Corey returned to Piedmont after graduating from Middlebury College and has served as the Assistant Coach for the Piedmont High School Men's and Women's Varsity Tennis teams. Corey has been instrumental in the continued success of the PHS tennis program, whose men's and women's programs have been the only ones to qualify every year for the NCS Team Championships since its inception in 1998-99.
PRFO is a group of Piedmont residents who work in collaborative public-private partnership with the City of Piedmont to promote recreation facilities and fields to meet community needs. To learn more about PRFO, visit www.prfo.org.